Sarasota Slim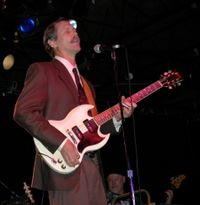 AKA
Gene Hardage got a guitar at 13 and was self-taught
with the help of friends and the typical teenage obsession
with music.  In his early 20's he started playing in bands and occasionally doing gigs with a great blues harp player known as Rock Bottom and then eventually
becoming the guitar player in his band the Jungle Bushmasters.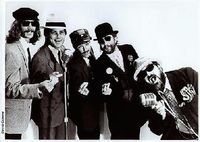 Rock Bottom gave everyone silly stage-nicknames and when Gene Hardage
became Sarasota Slim it stuck.
   In 1987 when the Russian Chernobyl disaster was spewing radio active
fallout all over Scandinavia, it was a major turning point and Sarasota Slim made a last minute decision not to go on the 2nd Rock Bottom tour of Scandinavia.  
From that point forward Sarasota Slim started fronting his own bands
singing and writing his own songs.
   In 1988, Sarasota Slim teamed up with Lucky Peterson
for a wild couple of years of playing and touring the South.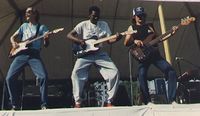 When the original Green Iguana on Westshore opened,
Jessie and Kimbo (representatives from the
Gulf Coast Blues Society) convinced them to have a Monday 
 night blues jam hosted by the Sarasota Slim Band.  Tip jar money from the blues jam was used to fund a few events for the Gulf Coast Blues Society. When that blues society folded - the "new" Sun Coast Blues Society was born!  
The Monday night blues jam at the Green Iguana Westshore
continues today with 2 original Slim band mates - Dean Germain
and Benny Sudano on B3 and bass. There are also several live
"Boot Leg Blues" CDs featuring various bay area musicians and
singers recorded mostly at the Green Iguana.
    In the early 90's Sarasota Slim released 4 CDs on the Italian label
Appaloosa complete with tours of Europe to promote them.  
    In 1999 and 2001, Sarasota Slim released 2 CDs on his own
Possum Phono-Graphics label.  
    In 2005 a quick trip to Poland to play a blues festival produced a great live CD by the bass player, band leader and organizer Mark Olbrich.
    The latest release is - Get Up Get Down and it's on the Possum Phono-Graphics label and available on CD Baby
CONTACT INFO:
Gene SARASOTA SLIM Hardage
Cell: 727-421-9045
Email: Slim@SarasotaSlim.com
Sarasota Slim CD PROMO-INFO .pdf
11 x 17 blues dog poster pdf
SS with SG hi-res promo photo jpg